AACR WEEK ONCOLOGY WEBINAR SERIES
In lieu of our participation in the now cancelled 2020 AACR Conference, Indica Labs are pleased to bring you webinar presentations from two of our esteemed customers in oncology research and drug discovery, David Krull from GlaxoSmithKline and Dr. David Reiss from Bristol Meyers Squibb, who will present on April 27th and 28th, respectively. Please join us to hear about how Indica Labs image analysis software and pharma services are being used within their organizations to advance oncology drug development.
PLEASE NOTE you will need to register separately for each webinar presentation if you wish to attend both events.  Webinar recordings will be sent to all registered delegates at the conclusion of the webinar series.
27 April, 2020
8:00 PDT | 11:00 EDT | 16:00 BST
The Use of Image Fusing in the Deployment of a 7-plex Immunofluorescent Assay
Recent developments multiplexing immunofluorescent assays have made it possible to detect several antibody targets in a single tissue section.  This is enabled without the use of secondary antibodies or tyramide signal amplification techniques.  This webinar will present a workflow employing DNA barcoded antibodies in the InSituPlex technology from Ultivue.  The method, in brief, involves the use of two panels of markers that are applied in two rounds of staining with an imaging step after each.  The resulting images are then fused, using HALO, to produce a single  multiplex image.  Further processing is performed in HALO to identify the specific phenotypes of labeled cells within tumor sections. Using this technology and workflow, we were able to detect 7 markers in same tissue section, which significantly expanded our capability to understand the expression and distribution of the immune cells in these tumors.
David Krull
Manager & GSK Fellow, Cellular Biomarkers, GlaxoSmithKline
David Krull is a scientific leader and histotechnology subject matter expert at GlaxoSmithKline.  He has over 30 years of experience in drug development and currently supports tissue biomarker assays for clinical trials.
Available On-Demand
28 April, 2020
8:00 PDT | 11:00 EDT | 16:00 BST
Spatial Organization of Immune Cells in the Pancreatic Ductal Adenocarcinoma (PDAC) Tumor Microenvironment
It is difficult to develop successful treatments for PDAC; even with curative resection, most patients die from early occult metastases. Immune checkpoint therapy has so far been unsuccessful at improving patient outcomes. Prior studies identified the presence of tumor-infiltrating lymphocytes (TILs) in primary PDAC tumors as having prognostic significance in the PDAC adjuvant setting. The phase 3 APACT trial evaluated the use of adjuvant nab-paclitaxel plus gemcitabine vs. gemcitabine in 866 patients with PDAC who had undergone primary tumor resection, with the primary endpoint of disease-free survival evaluated by independent review. We extended studies of the tumor microenvironment of PDAC to a large set of resected APACT primary tumors in an effort to further refine features of tumor or immune infiltrate that influence disease progression and to determine if chemotherapy regimen–specific predictive signatures are identifiable. In this webinar, we will describe the methods and preliminary analytics obtained from this study which provide an unprecedented opportunity for exploratory analysis and discovery of immune, molecular, and genetic biomarkers for PDAC patient stratification.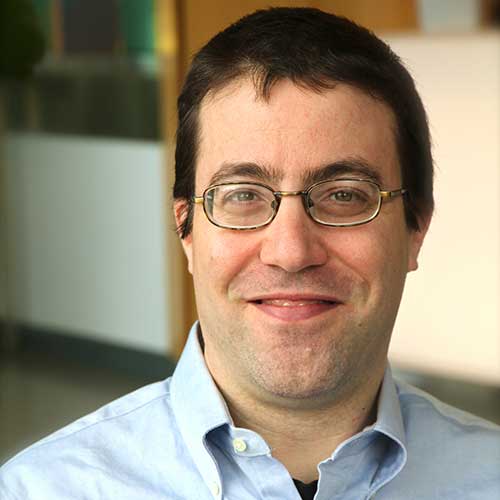 Dr. David Reiss, PhD
Sr. Scientist, Translational Informatics & Predictive Sciences, Bristol Meyers Squibb
Dr. Reiss develops methods for statistical analysis and modeling, machine learning, and visualization to gain novel insights from large and complex data sets. Dr. Reiss holds a doctorate degree in Astrophysics from the University of Washington and has worked in diverse areas of research, including astrophysics, microbial systems biology, and currently oncology and digital pathology.
Available On-Demand