Indica Labs' London Quantitative Pathology and HALO User Group Meeting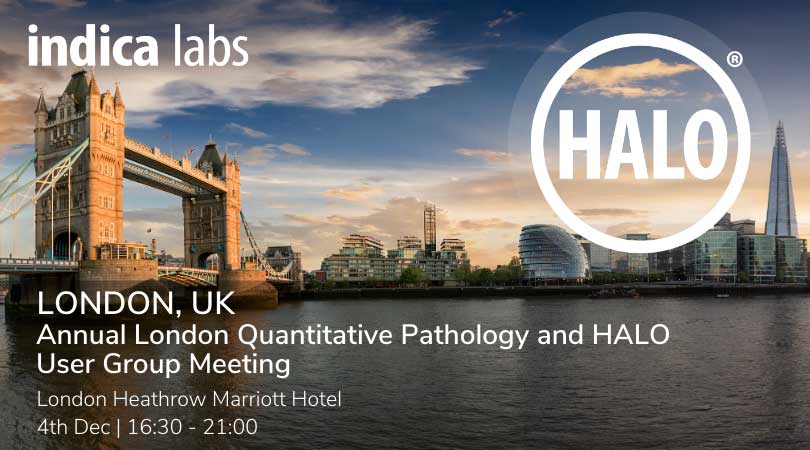 Indica Labs invites you to attend our London Quantitative Pathology and HALO User Group Meeting
Wednesday, 4 December 2019
London Heathrow Marriott Hotel
London, UK
Indica Labs is pleased to announce our London Quantitative Pathology and HALO User Group Meeting to be held in London on the 4 December 2019 from 4:30 to 9 PM.  Dinner will be served to all pre-registered workshop attendees – limited space available.
This year's programme features seven outstanding guest speakers representing globally renowned cancer centres, biotechs, CROs and pharmaceutical organizations who will discuss how they use the HALO image analysis and HALO AI deep learning platforms to achieve their research objectives in oncology, immunology, tox pathology and beyond. In addition to our guest speakers, Indica Labs will introduce and demonstrate new features in HALO, HALO AI and HALO Link platforms as well as a sneak peak into our new HALO AP workflow for anatomic pathology.

You do not need to be a current HALO user or Indica Labs customer to attend. We welcome anyone who is interested in learning more about Indica Labs' quantitative digital pathology solutions to register for the meeting.

CLICK HERE TO
REGISTER
FOR THE 2019 LONDON USER GROUP MEETING.

---
Guest Speakers:

Multimodal Mass Spectrometry Imaging to understand drug delivery, response and resistance
Dr. Stephanie Ling, PhD
Associate Principal Scientist Mass Spectrometry Imaging Pathology Clinical Pharmacology and Safety Sciences
AstraZeneca

Characterising T cell distribution in hormone-sensitive vs. castration-resistant metastatic prostate tumour microenvironment
Dr. Bora Gurel, M.D.
Clinician Scientist/Pathologist
The Institute of Cancer Research

Validation approaches for Multiplex Immunofluorescence Tissue Imaging
Arthur Lewis
Associate Director
AstraZeneca | R&D | Clinical Pharmacology and Safety Sciences

Mining Halo for advanced spatial analytics
Allan Rasmusson
Researcher
National Center of Pathology, Vilnius University, Lithuania

Dr. Arvydas Laurinavicius, MD, PhD
Director
National Center of Pathology, Vilnius University, Lithuania

HALO image analysis for tissue assessment: from quality control to high throughput analyses
Camille Rivet
Associate Scientist, Target Validation
Immunocore Ltd

Applications of Digital Pathology within immuno-oncology R&D – a CRO perspective
Dr. Lorcan Sherry, PhD
Chief Scientific Officer
OracleBio, Ltd