INDICA LABS TOKYO QUANTITATIVE PATHOLOGY & AI USER GROUP MEETING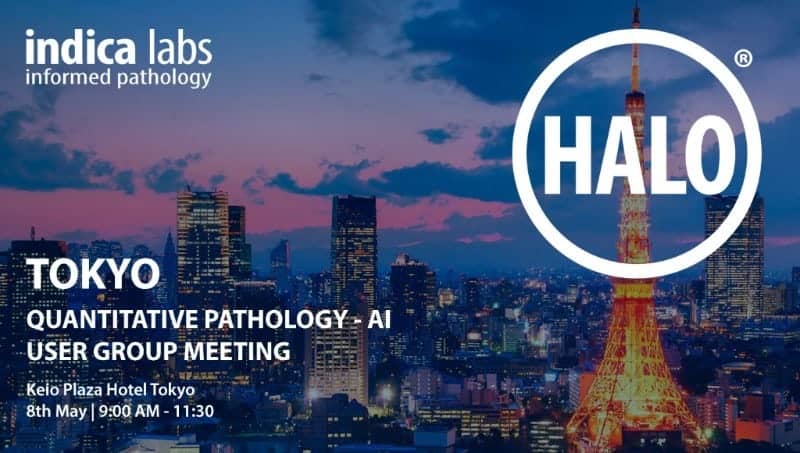 Indica Labs invites you to attend our 2018 Tokyo User Group Meeting
Tuesday May 8, 2018
Keio Plaza Hotel Tokyo
Shinjuku-Ku, Tokyo, Japan
Indica Labs invites you to attend our Tokyo Quantitative Pathology & AI User Group Meeting being held in conjunction with the 4th Digital Pathology Congress – Asia on Tuesday 8th May 2018 from 9:00 to 11:30 am at the Keio Plaza Hotel.
インディカ・ラボは、京王プラザホテルにて5月8日午前9時分-11時30分に開催される、病理定量的解析・AIユーザーグループミーティングIn東京にご招待いたします。
The meeting will feature customer presenters representing diverse organizations, including biotech, pharma and academic medical centers. These customers will discuss how they are using HALO image analysis to achieve their research objectives with an emphasis on biomarker analysis in oncology, particularly immuno-oncology. Additionally, there will be presentations from Indica Labs on new features in HALO and HALO Link and introducing HALO AI, our new deep learning platform.
このユーザーミーティングでは、バイオテクノロジー、製薬、医療研究・学術機関などの様々な組織を代表するHALOユーザー様がプレゼンターとして講演予定です。 これらのお客様は、腫瘍学、特に免疫腫瘍学におけるバイオマーカー分析に重点を置いて、研究目的を達成するためにHALO画像解析をどのように使用しているかを中心議題としております。 さらに、HALOとHALO Linkの新機能についてのIndica Labsからのプレゼンテーションと、新しいディープラーニングプラットフォームであるHALO AIの導入が予定されています。
Speakers:
タイトル:HALO Image Analysis Platform: A Powerful Tool for Drug Development
役職:Masato Murakami (村上雅人)
Vice President, Biomarker Department
Daiichi Sankyo Co., Ltd.
第一三共株式会社バイオマーカー推進部部長
Nicolas A. Giraldo-Castillo, MD-PhD
Dermatoimmunology Laboratory
Johns Hopkins School of Medicine
Krysten Vance
Cancer Research Department
University of Nebraska Medical Center
You do not need to be a current HALO user or Indica Labs customer to attend. We welcome anyone who is interested in learning more about HALO quantitative pathology from their peers to register for the meeting.
本ミーティングへのご参加には、現在HALOユーザーまたはIndica Labsのお客様である必要はありません。 私たちは、HALOの病理定量解析について学ぶことに興味を持っていただいた方、ご紹介や口コミなどでも振るってご参加いただけます事を歓迎します。
To register for the 2018 Tokyo User Group Meeting send an email to marketing@indicalab.com.