HALO AP® 2.2 Features and Functionalities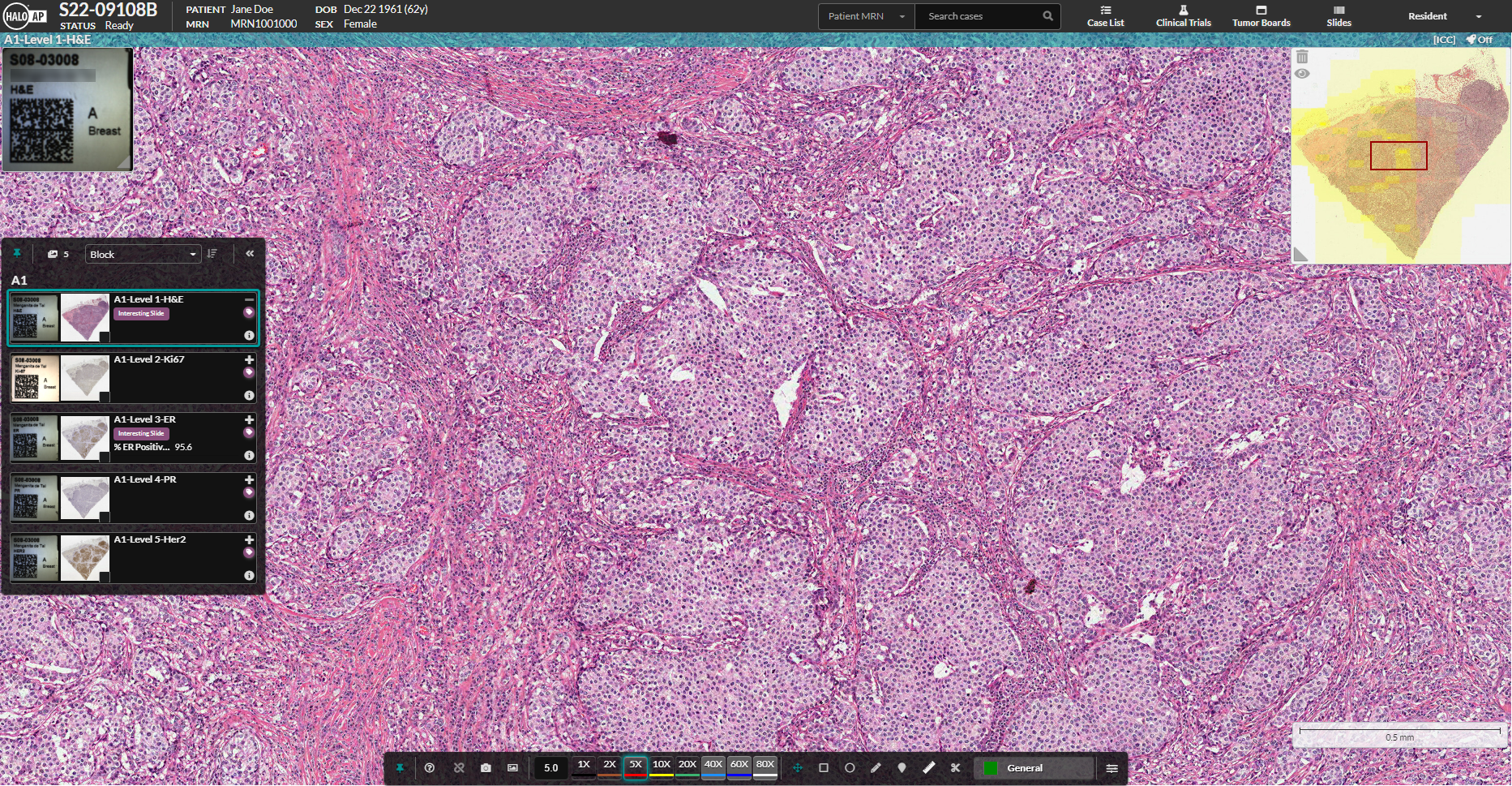 In this blog post, we'll delve into the exciting new features and quality-of-life improvements in the latest release of HALO AP®, a CE marked, AI powered and pathologist driven enterprise digital pathology platform from Indica Labs. We will also provide information about when you can expect your chance to upgrade to HALO AP 2.2, as well as where to find user guides, release notes, and tutorial videos.
What New Features Are in the HALO AP 2.2 Release?
Blind Scoring
A convenient tool that simplifies and streamlines the process of conducting blinded assay workflows or system validation assessments. Cases are generated by a Case-Trial Supervisor and assigned to pathologists who review the cases, unable to see the other pathologists' work. Results from multiple blinded cases can easily be exported for further downstream analysis. AI algorithm results can also be incorporated into a blinded trial. An easy-to-read clinical trial interface lets organizers see what cases have been returned and which ones remain pending. A clinical trial license is required.
View Tracking
Provides a visual representation of the areas on each slide that have been viewed over time. This tracking data is saved locally for a duration of four weeks before being automatically deleted. The primary purpose of this feature is to assist pathologists in keeping track of specific areas that have already been reviewed, which may be especially helpful to users that are new to digital pathology. If desired, the feature can be universally toggled off. View tracking is not auditable by system administrators and is for the viewer's information only. When viewing is complete, slides can now be marked as viewed with the click of a button in the slide tray.
Custom Case Tagging
Custom personal tags were created to allow each user to tag interesting or unique cases for later retrieval. Organize your cases in the way that makes sense to you and always have what you need ready to be pulled up. Personal tags are visually differentiated from system tags by color. Upon upgrade all existing case tags will be converted to system-level tags, which are only editable by Case-Trial Supervisors. System-level tags allow for straightforward identification of rescanned and obsolete slides and facilitate easy archiving. When a slide is rescanned, the other slides sharing the barcode are automatically marked as obsolete.
Slide Tagging
Now you can tag individual slides within cases on a system level. Mark slides with case-relevant data such as highest tumor percentage, neural or vascular invasion, margin proximity or invasion and more. This feature also allows for marking slides for rescan when they fail QC, makes recognizing rescans easier from the slide tray, and allows for easy archiving of clinically relevant slides. Slide tags are editable by Case-Trial Supervisors only. The Slides page is now accessible from the top header and is accessible to those with Histotech and Case-Trial Supervisor roles. Slides can be filtered by tag from the slides page.
Simplified Access to Analysis Results
Clickable links to image analysis results are now displayed conveniently within the slide tray. Clicking the link takes you to the analyzed slide with the mark-up loaded and results displayed. Analysis results can be added to the slide tray via the Assay Editor.
Easier Toggling Between Analysis Mark-Ups
Now you can turn analysis mark-ups on and off with the press of a button, creating a more streamlined user interface with easier access to analysis results.
Improved Export and Import Tools
This update streamlines sharing and collaboration through a substantial increase in the speed of export and import, enabling users to quickly move large quantities of slides and metadata into and out of the platform with ease.
Anonymized Image Export
Quickly and easily export anonymized images in original file formats, allowing you to conduct research and share images without compromising patient safety or privacy. The original file formats are retained during anonymized image export for most major file format types. For NDPI, SVS, and iSyntax images, export is now <10 seconds per slide.
Where Can I Learn More About HALO AP 2.2?
When Can I Expect To Receive My 2.2 Upgrade?
Indica Labs will be sending an email out to customers soon from info@indicalab.com with instructions on how to submit their upgrade request.
If you haven't already, please add the following emails to your safe sender list to make sure our emails make it to you and not your spam folders: support@indicalab.com, info@indicalab.com, and marketing@indicalab.com.
Once you receive this email and submit your upgrade request, our Technical Solutions team will work with you to schedule your installation.
If you have questions regarding the release, feel free to reach out to support@indicalab.com.