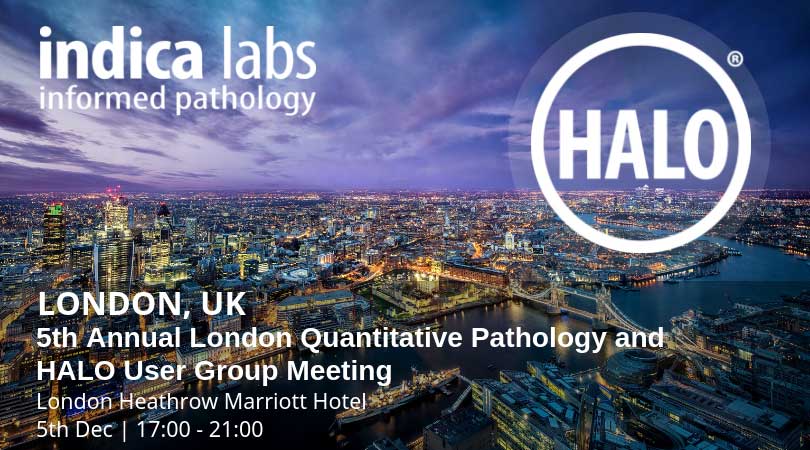 Indica Labs invites you to attend our 5th Annual London Quantitative Pathology and HALO User Group Meeting:
Hot Topics in Immuno-oncology and Deep Learning
Wednesday, 5 December 2018
London Heathrow Marriott Hotel
London, UK
Indica Labs is pleased to announce our 5th Annual London Quantitative Pathology Symposia and HALO User Group Meeting to be held in conjunction with the Digital Pathology & AI Congress in London on the 5th December 2018 from 5 to 9 PM.  Dinner will be served to all pre-registered workshop attendees – limited space available.
This year's programme features five outstanding guest speakers representing globally renowned cancer centres, biotech and pharmaceutical organizations who will discuss how they use the HALO image analysis and HALO AI deep learning platforms to achieve their research objectives in immuno-oncology, tox pathology and beyond.  There is a strong emphasis on immuno-oncology applications, multiplexing and deep learning applications throughout the programme, including a sneak peek into the new multiplexed phenotyping and cloud-based deep learning capabilities coming soon in HALO and HALO AI.
You do not need to be a current HALO user or Indica Labs customer to attend. We welcome anyone who is interested in learning more about Indica Labs' quantitative digital pathology solutions to register for the meeting.
CLICK HERE TO
REGISTER
FOR THE 2018 LONDON USER GROUP MEETING.
Speakers:


Immune profiling of the TME with HALO to identify prognostic and predictive biomarkers in clear cell renal cell carcinoma and soft tissue sarcoma

Prof. Catherine Sautès-Fridman, PhD –  Emeritus Professor, Paris-Descartes University Head of the cancer, Immunology and Immunopathology Department Cancer and Immune escape team, Cordeliers Research Centre 
---
Targeting Immuno-oncology Markers in the Tumor Microenvironment
Dr Travis Hollmann, MD, PhD – Pathologist and Director if Advanced Immunomorphology Platforms
Memorial Sloan Kettering Cancer Center
---
Using HALO AI to evaluate drug-induced GI toxicity
Daniel Sutton – Senior Scientist Pathology Sciences, AstraZeneca
---
Toward precision pathology through HALO software
Dr. Peter Caie, PhD – Senior Research Fellow – Pathology, University of St. Andrews
Use of HALO in preclinical translational research in oncology
Dr Francesca Trapani, DVM
Laboratory Head, Molecular Pathology Biomarker Group, Boehringer Ingelheim