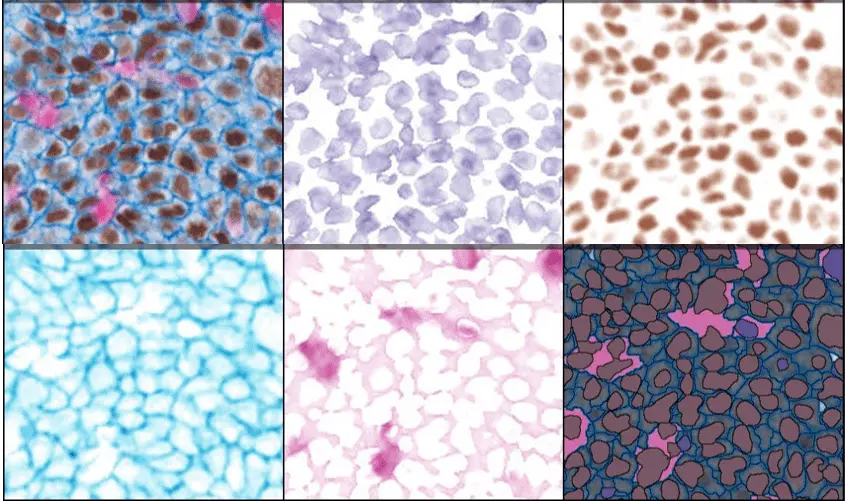 Corrales, NM – 2 November, 2016 – Indica Labs, a leading provider of software for quantitative evaluation of digital pathology images, is pleased to announce the release of a new module for multiplex chromogenic IHC analysis using HALO™.  The Multiplex IHC module can separate up to five stains simultaneously and analyze any subcellular compartment, nucleus, cytoplasm or membrane, making it ideally suited for applications in immuno-oncology where multiple markers are required to characterize distinct immune and tumor cell populations within the tissue.
Due to limitations with traditional color deconvolution, digital pathology image analysis has been largely limited to single or dual immunohistochemistry and analysis of more than two stains could only be accomplished using serial section alignment or immunofluorescence and fluorescence slide scanning.   The Multiplex IHC overcomes these barriers using advanced color unmixing and cell segmentation protocols to facilitate multiplex analysis from a single slide without the need for expensive, time-consuming fluorescent image capture or serial section analysis.  Using fast brightfield whole-slide image acquisition and analysis, Multiplex IHC paves the way for more rapid, cost effective multiplex biomarker evaluation.  An example of 4-plex IHC analysis is shown in figure below.
---
Figure 1. 4-plex IHC stained tissue (A). With advanced color deconvolution using HALOs Multiplex IHC module, we can visualize (B) hematoxylin counterstain (C) brown nuclear marker, (D) blue membrane marker, and (E) pink/red cytoplasmic marker. The positivity of each marker is measured in each subcellular compartment based on user-determined thresholds and the resulting mark-up image is shown in (F). Advanced staining courtesy of the Trev and Joyce Deeley Research Centre, BC Cancer Agency
---
Indica Labs, CEO, Steven Hashagen commented, "HALO product development has always been driven by customer needs and the Multiplex IHC module is no exception.  Chromogenic multiplexing has become increasingly more important in immuno-oncology, and our revolutionary color deconvolution technology opens many doors in this area."
To request a live demonstration, software trial or upgrade to your existing HALO platform, please contact us at info@indicalab.com.
About Indica Labs, Inc. 

Indica Labs is a leading provider of software for quantitative evaluation of digital pathology images.  Indica Lab's HALO™ image analysis platform provides a unique combination of precision, performance, scalability, and usability which underpins a broad range of industry-leading, application-specific image analysis modules.  Pharmaceutical and medical research organizations worldwide utilize HALO to support tissue-based research programs in neuroscience, metabolism, oncology, toxicological pathology, and more.  For more information, please visit https://indicalab.com.