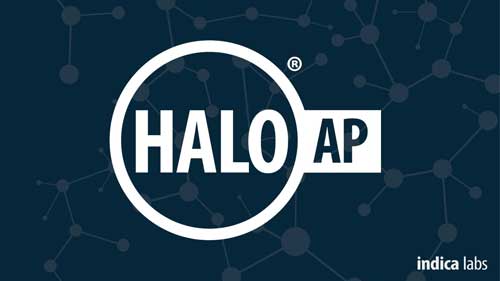 Albuquerque, NM (April 3, 2020) – Indica Labs, the leading provider of computational pathology software, is pleased to announce the formal release of its HALO AP™ Anatomic Pathology platform at NeoGenomics Laboratories, Inc.
HALO AP™ was developed by Indica Labs to address the needs of Anatomic Pathology labs. Offering a full range of tissue-based assays and workflows, the platform can be fully integrated within existing LIS solutions or can operate as a standalone case management system. HALO AP adds support for clinical trials, tumor boards, secondary consults, AI-assisted workflows, and quantitative analysis of custom laboratory developed tests (LDTs), from basic immunohistochemistry (IHC) through to novel, multiplexed immune-oncology assays.
NeoGenomics Laboratories, Inc. in Aliso Viejo CA, Fort Myers FL, and Houston TX have successfully deployed, integrated, validated HALO AP for quantitative IHC testing for breast cancer and colorectal cancer panels. The platform is fully integrated into the NeoGenomics Laboratories, Inc. web-based pathology portal, LIS database, reporting system, and billing systems. Internal pathologists at NeoGenomics as well as hundreds of external pathologists will have access to state-of-the-art AI-based precision image analytics incorporated directly into their case sign-out workflow.
Dr. Lawrence Weiss, Chief Medical Officer of NeoGenomics Laboratories, Inc. stated, "We are excited to have integrated Indica Labs enterprise-level HALO AP™ software as our Image Analysis quantitative IHC offering at NeoGenomics. This partnership is suited to meet our scalability needs in digital pathology, providing better analysis performance for the pathologist while providing NeoGenomics support and development needs for future state."
Indica Labs CEO, Steven Hashagen added, "We are delighted to announce this deep integration of our HALO AP technology at NeoGenomics, one of the largest oncology testing laboratories in the United States. The immediate impact on pathologists' precision, throughput, and user experience is already being recognized, and the framework for implementing additional cutting-edge technologies is now in place."
About Indica Labs

Indica Labs is the world's leading provider of computational pathology software and services. Our flagship HALO image analysis platform enables fast, quantitative evaluation of tissues using a broad range of artificial intelligence (AI) and computer vision algorithms. HALO Link and HALO AP facilitate remote image analysis, collaboration and management. Through a combination of precision, scalability, and usability our software solutions enable pharmaceutical companies, diagnostic labs, research organizations, and Indica's own contract pharma services team to advance tissue-based research, clinical trials, and diagnostics. For more information, please contact info@indicalab.com
About NeoGenomics, Inc

NeoGenomics Laboratories, Inc. specializes in cancer genetics testing and information services. The Company provides one of the most comprehensive oncology-focused testing menus in the world for physicians to help them diagnose and treat cancer. The Company's Pharma Services Division serves pharmaceutical clients in clinical trials and drug development.