The Axon module counts and measures axons and myelin areas in nerve cross-sections. Since axon cross-sections are irregularly shaped, the algorithm uses image processing techniques to detect each axon's minimum and median diameter. Once each axon has been measured the software generates important statistics including the average inner and outer diameters, average G-Ratio, average perimeter, total axon area, total myelin area, and average myelin thickness. Additionally, it produces several histograms including an axon G-Ratio histogram.
File formats supported by the HALO image analysis platform:
Non-proprietary (JPG, TIF, OME.TIFF)
Nikon (ND2)
3D Histech (MRXS)
Akoya (QPTIFF, component TIFF)
Olympus / Evident (VSI)
Hamamatsu (NDPI, NDPIS)
Aperio (SVS, AFI)
Zeiss (CZI)
Leica (SCN, LIF)
Ventana (BIF)
Philips (iSyntax, i2Syntax)
KFBIO (KFB, KFBF)
DICOM (DCM*)
*whole-slide images
The table below includes publications that cite the Axon Quantification module. 
Your publication not on the list?  Drop us an email to let us know about it!
| Title | Authors | Year | Journal | Application | HALO Modules |
| --- | --- | --- | --- | --- | --- |
| Intrathecal Administration of AAV/GALC Vectors in 10- 11-Day-Old Twitcher Mice Improves Survival and Is Enhanced by Bone Marrow Transplant | Karmuthil-Melethil S, Marshall MS, Heindel C, Jakubauskas B, Bongarzone ER, Gray SJ | 2016 | Journal of Neuroscience Research | Neuroscience | Axon |
| Advanced Age and Neurotrauma Diminish Glutathione and Impair Antioxidant Defense after Spinal Cord Injury | Stewart A, Glaser E, Mott C, Bailey W, Sullivan P, Patel S, Gensel J | 2022 | Journal of Neurotrauma | Neuroscience | Axon |
| Sensory neurons display cell-type-specific vulnerability to loss of neuron-glia interactions | Elbaz B, Yang L, Vardy M, Isaac S, Rader B, Kawaguchi R, Traka M, Woolf C, Renthal W, Popko B | 2022 | Cell Reports | Neuroscience | Axon |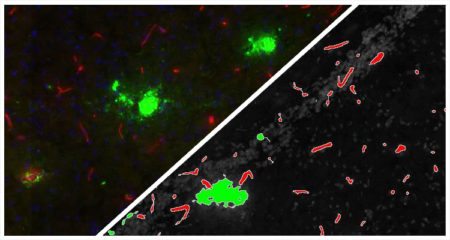 Count one or two fluorescently labeled objects and measures the object area, diameter, stain intensity, and colocalization (where applicable). Microvessel and amyloid plaque quantification are most common applications.
Learn More
Use the arrows above to view additional related modules
Fill out the form below to request information about any of our software products.
You can also drop us an email at info@indicalab.com
We highly recommend using Google Chrome when filling out the form above. Please email
marketing@indicalab.com
for support.