The Muscle Fiber FL module detects fluorescently-stained muscle fibers and reports the total count as well as the perimeter, area, and diameter of each fiber. The module also detects nuclei (and nuclear position with respect to the fiber) and reports fiber membrane dye intensity and co-localization (where applicable).
File formats supported by the HALO image analysis platform:
Non-proprietary (JPG, TIF, OME.TIFF)
Nikon (ND2)
3D Histech (MRXS)
Akoya (QPTIFF, component TIFF)
Olympus / Evident (VSI)
Hamamatsu (NDPI, NDPIS)
Aperio (SVS, AFI)
Zeiss (CZI)
Leica (SCN, LIF)
Ventana (BIF)
Philips (iSyntax, i2Syntax)
KFBIO (KFB, KFBF)
DICOM (DCM*)
*whole-slide images
The table below includes publications that cite the Muscle Fiber and Muscle Fiber FL modules. 
Your publication not on the list?  Drop us an email to let us know about it!
| Title | Authors | Year | Journal | Application | HALO Modules | Product |
| --- | --- | --- | --- | --- | --- | --- |
| Inhibition of myostatin prevents microgravity-induced loss of skeletal muscle mass and strength | Smith RC, Cramer MS, Mitchell PJ, Lucchesi J, Ortega AM, Livingston EW, Ballard D, Zhang L, Hanson J, Barton K, Berens S, Credille KM, Bateman TA, Ferguson VL, Ma YL, Stodieck LS | 2020 | PLOS One | Myology | Muscle Fiber | HALO |
| Dynamic changes to lipid mediators support transitions among macrophage subtypes during muscle regeneration | Giannakis N, Sansbury BE, Patsalos A, Hays TT, Riley CO, Han X, Spite M, Nagy L | 2019 | Nature Immunology | Immunology, Myology | Muscle Fiber | HALO |
| Myostatin blockade with a fully human monoclonal antibody induces muscle hypertrophy and reverses muscle atrophy in young and aged mice | Latres E, Pangilinan J, Miloscio L, Bauerlein R, Na E, Potocky TB, Huang Y, Eckersdorff M, Rafique A, Mastaitis J, Lin C, Murphy AJ, Yancopoulos GD, Gromada J, Stitt T | 2015 | Skeletal Muscle | Myology | Muscle Fiber | HALO |
| Peripheral androgen receptor gene suppression rescues disease in mouse models of spinal and bulbar muscular atrophy | Lieberman AP, Yu Z, Murray S, Peralta R, Low A, Guo S, Yu XX, Cortes CJ, Bennett CF, Monia BP, La Spada AR, Hung G | 2014 | Cell Reports | Myology | Muscle Fiber | HALO |
| The Goto Kakizaki rat: Impact of age upon changes in cardiac and renal structure, function | Meagher P, Civitarese R, Lee X, Gordon M, Bugyei-Twum A, Desjardins J, Kabir G, Zhang Y, Kosanam H, Visram A, Leong-Poi H, Advani A, Connelly K | 2022 | PLOS ONE | Myology | Muscle Fiber | HALO |
| A growth factorñexpressing macrophage subpopulation orchestrates regenerative inflammation via GDF-15 | Patsalos A, Halasz L, Medina-Serpas M, Berger W, Daniel B, Tzerpos P, Kiss M, Nagy G, Fischer C, Simandi Z, Varga T, Nagy L | 2021 | Journal of Experimental Medicine | | Muscle Fiber | HALO |
| Low immunogenicity of LNP allows repeated administrations of CRISPR-Cas9 mRNA into skeletal muscle in mice | Kenjo E, Hozumi H, Makita Y, Iwabuchi K, Fujimoto N, Matsumoto S, Kimura M, Amano Y, Ifuku M, Naoe Y, Inukai N, Hotta A | 2021 | Nature Communications | Other | Muscle Fiber | HALO |
| Electrical impedance myography detects dystrophin-related muscle changes in mdx mice | Hiyoshi T, Zhao F, Baba R, Hirakawa T, Kuboki R, Suzuki K, Tomimatsu Y, O'Donnell P, Han S, Zach N, Nakashima M | 2023 | Research Square | Myology | Area Quantification, Muscle Fiber | HALO |
| Effects of the purified dry extract of fermented ginseng BST204 on muscle fiber regeneration | Jo S, Park Y, Chang Y, Moon J, Lee S, Lee H, Kim M, Kim D, Bae S, Park S, Yun H, You J, Im M, Han H, Kim S, Jin D | 2023 | Biochemistry and Biophysics Reports | Myology | Muscle Fiber | HALO |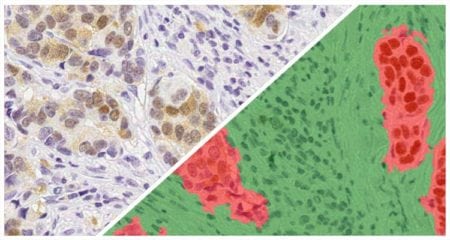 Separate multiple tissue classes across a tissue using a learn-by-example approach. Can be used in conjunction with all other modules (fluorescent and brightfield) to select specific tissue classes for further analysis.
Learn More
Use the arrows above to view additional related modules
Fill out the form below to request information about any of our software products.
You can also drop us an email at info@indicalab.com
We highly recommend using Google Chrome when filling out the form above. Please email
marketing@indicalab.com
for support.