The Islet Quantification module counts and measures pancreatic islets and classifies cells within each islet. Islet cells can be measured for cytoplasmic and/or nuclear positivity for up to two stains.
In addition to measuring cytoplasmic positivity, this tool can also be configured to detect positivity within islet nuclei as shown in the second example. Here, proliferating beta cells are identified as dual positive for insulin (red stain) and Ki67 (brown nuclear stain). Insulin positive cells are marked red in the cytoplasm and Ki67 positive cells are marked green in the nucleus.
The module reports islet counts, and islet measurements (diameter & area), islet cell counts (beta cells, positive cells, dual positive cells, and negative cells), and a histogram of islet frequency by diameter ranges.
File formats supported by the HALO image analysis platform:
Non-proprietary (JPG, TIF, OME.TIFF)
Nikon (ND2)
3D Histech (MRXS)
Akoya (QPTIFF, component TIFF)
Olympus / Evident (VSI)
Hamamatsu (NDPI, NDPIS)
Aperio (SVS, AFI)
Zeiss (CZI)
Leica (SCN, LIF)
Ventana (BIF)
Philips (iSyntax, i2Syntax)
KFBIO (KFB, KFBF)
DICOM (DCM*)
*whole-slide images
The table below includes publications that cite the Islet IHC or FL modules. 
Your publication not on the list?  Drop us an email to let us know about it!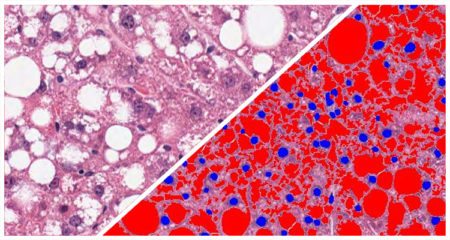 Quantifies vacuole area, diameter, perimeter, and number of vacuoles per region of interest. Measures steatosis in kidney, lipid droplets in adipose tissue, and alveolar area in lung tissue.
Learn More
Use the arrows above to view additional related modules
Fill out the form below to request information about any of our software products.
You can also drop us an email at info@indicalab.com
We highly recommend using Google Chrome when filling out the form above. Please email
marketing@indicalab.com
for support.