The Vacuole Quantification module is a multi-purpose module that can be used for quantifying the number and size of white spaces in tissue. Typical applications are lipids in brown and white adipose tissue, lipid droplets in liver tissue (steatosis), and alveoli area in lung.
File formats supported by the HALO image analysis platform:
Non-proprietary (JPG, TIF, OME.TIFF)
Nikon (ND2)
3D Histech (MRXS)
Akoya (QPTIFF, component TIFF)
Olympus / Evident (VSI)
Hamamatsu (NDPI, NDPIS)
Aperio (SVS, AFI)
Zeiss (CZI)
Leica (SCN, LIF)
Ventana (BIF)
Philips (iSyntax, i2Syntax)
KFBIO (KFB, KFBF)
DICOM (DCM*)
*whole-slide images
The table below includes publications that cite the Vacuole Quantification module. 
Your publication not on the list?  Drop us an email to let us know about it!
| Title | Authors | Year | Journal | Application | HALO Modules | Product |
| --- | --- | --- | --- | --- | --- | --- |
| A suboptimal maternal diet combined with accelerated postnatal growth results in an altered aging profile in the thymus of male rats | Tarry-Adkins JL, Aiken CE, Ashmore TJ, Fernandez-Twinn DS, Chen J-H, Ozanne SE | 2018 | The FASEB Journal | Neuroscience, Metabolism | Classifier, Vacuole | HALO |
| Phenotypic characterization of Adig null mice suggests roles for adipogenin in the regulation of fat mass accrual and leptin secretion | Alvarez-Guaita A, Patel S, Lim K, Haider A, Dong L, Conway OJ, Ma MKL, Chiarugi D, Saudek V, O'Rahilly S, Savage DB | 2021 | Cell Reports | Metabolism | Vacuole | HALO |
| Breast adipocyte size associates with ipsilateral invasive breast cancer risk after ductal carcinoma in situ | Almekinders MMM, Schaapveld M, Thijssen B, Visser LL, Bismeijer T, Sanders J, Isnaldi E, Hofland I, Mertz M, Wessels LFA, Broeks A, Hooijberg E, Zwart W, Lips EH, Grand Challenge PRECISION Consortium, Desmedt C, Wesseling J | 2021 | npj Breast Cancer | Oncology | Vacuole | HALO |
| Allostatic hypermetabolic response in PGC1?/? heterozygote mouse despite mitochondrial defects | Rodriguez-Cuenca S, Lelliot C, Campbell M, Peddinti G, Martinuez-UÒa M, Ingvorsen C, Dias A, Relat J, Mora S, Hyˆtyl‰inen T, Zorzano A, Oreöi? M, Bjursell M, Bohlooly-Y M, LindÈn D, Vidal-Puid A | 2021 | The FASEB Journal | Metabolism | Vacuole | HALO |
| AST-120 Treatment Alters the Gut Microbiota Composition and Suppresses Hepatic Triglyceride Levels in Obese Mice | Hiraga Y, Kubota T, Katoh, M, et al. | 2021 | Endocrine Research | Metabolism | Vacuole | HALO |
| Accelerated phosphatidylcholine turnover in macrophages promotes adipose tissue inflammation in obesity | Petkevicius K, Virtue S, Bidault G, Jenkins B, Cubuk C, Morgantini C, Aouadi M, Dopazo J, Serlie M, Koulman A, Vidal-Puig A | 2019 | Elife | | Classifier, Vacuole | HALO |
| Evaluation of a PEGylated Fibroblast Growth Factor 21 Variant Using Novel Preclinical Magnetic Resonance Imaging and Magnetic Resonance Elastography in a Mouse Model of Nonalcoholic Steatohepatitis | Tang H, Li J, Zinker B, Boehm S, Mauer A, Rex-Rabe S, Glaser K, Fronheiser M, Bradstreet T, Nakao Y, Petrone T, Pena A, Villano M, Chow P, Malhi H, Charles E, Hayes W, Ehman R, Du S, Yin M | 2022 | Journal of Magnetic Resonance Imaging | Metabolism | Vacuole | HALO |
| Obesity due to Steroid Receptor Coactivator-1 deficiency is associated with endocrine and metabolic abnormalities | Cacciottolo T, Henning E, Keogh J, Lassen P, Lawler K, Bounds R, Ahmed R, Perdikari A, Mendes de Oliverira E, Smith M, Godfrey E, Johnson E, Hodson L, Clement K, van der Klaauw A, Farooqi I | 2022 | The Journal of Clinical Endocrinology & Metabolism | Metabolism | Vacuole | HALO |
| Combined genetic deletion of GDF15 and FGF21 has modest effects on body weight, hepatic steatosis and insulin resistance in high fat fed mice | Patel S, Haider A, Alvarez-Guaita A, Bidault G, Moustafa J, Guiu-Jurado E, Tadross J, Warner J, Harrison J, Virtue S, Scurria F, Zvetkova I, Bluher M, Small K, O'Rahilly S, Savage D | 2022 | Molecular Metabolism | Metabolism | Vacuole | HALO |
| Defective extracellular matrix remodeling in brown adipose tissue is associated with fibro-inflammation and reduced diet-induced thermogenesis | Pellegrinelli V, Figueroa-Juárez E, Samuelson I, U-Din M, Rodriguez-Fdez S, Virtue S, Leggat J, Çubuk C, Peirce V, Niemi T, Campbell M, Rodriguez-Cuenca S, Dopazo Blázquez J, Carobbio S, Virtanen K, Vidal-Puig A | 2023 | Cell Reports | Metabolism | Classifier, Area Quantification, Vacuole | HALO |
| Skeletal phenotype amelioration in Mucopolysaccharidosis VI requires intervention at the earliest stages of postnatal development | Hwang-Wong E, Amar G, Das N, Zhang X, Aaron N, Gale K, Rothman N, Fante M, Baik A, Bhargava A, Fricker A, McAlister M, Rabinowitz J, Lees-Shepard J, Nannuru K, Economides AN, Cygnar KD | 2023 | JCI Insight | Other | Vacuole, Layer Thickness | HALO |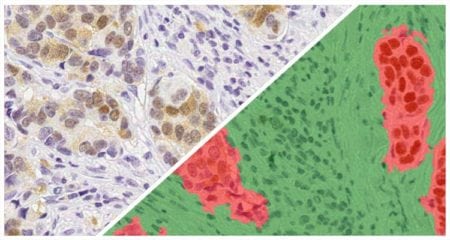 Separate multiple tissue classes across a tissue using a learn-by-example approach. Can be used in conjunction with all other modules (fluorescent and brightfield) to select specific tissue classes for further analysis.
Learn More
Fill out the form below to request information about any of our software products.
You can also drop us an email at info@indicalab.com
We highly recommend using Google Chrome when filling out the form above. Please email
marketing@indicalab.com
for support.