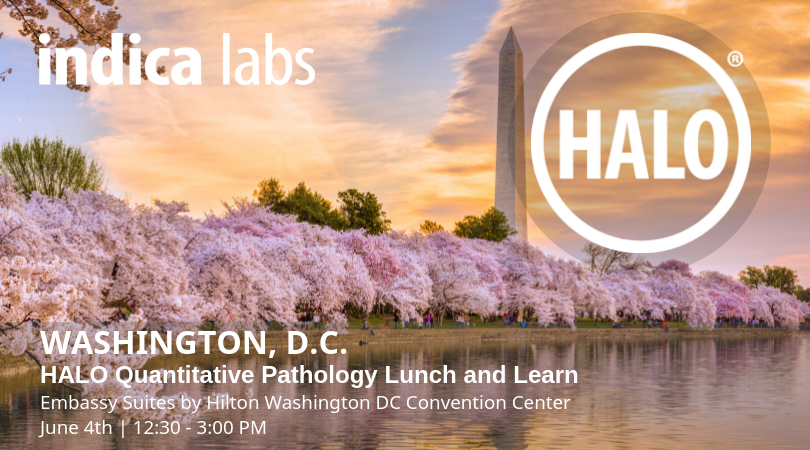 Indica Labs invites you to attend our Washington D.C. HALO Quantitative Pathology Lunch & Learn Meeting
Tuesday, June 4, 2019 Embassy Suites DC Convention Center Washington, D.C.
Indica Labs is pleased to announce our Washington, D.C. HALO Quantitative Pathology Lunch & Learn Meeting to be held in D.C. on the June 4, 2019 from 12:30 PM to 3 PM.
Lunch will be served from 11:30 AM – 12:30 PM to all pre-registered workshop attendees – limited space available.
This year's programme features five outstanding guest speakers representing globally renowned cancer centres, biotech and pharmaceutical organizations who will discuss how they use the HALO image analysis and HALO AI deep learning platforms to achieve their research objectives in immuno-oncology, tox pathology and beyond.  There is a strong emphasis on immuno-oncology applications, multiplexing and deep learning applications throughout the programme, including a sneak peek into the new multiplexed phenotyping and cloud-based deep learning capabilities coming soon in HALO and HALO AI.
You do not need to be a current HALO user or Indica Labs customer to attend. We welcome anyone who is interested in learning more about Indica Labs' quantitative digital pathology solutions to register for the meeting.
CLICK HERE TO
REGISTER
FOR THE 2019 D.C. LUNCH & LEARN MEETING.
D.C. Speakers:
Michael Surace
Scientist
AstraZeneca
Robert Ellis
Senior Director
Fluidigm