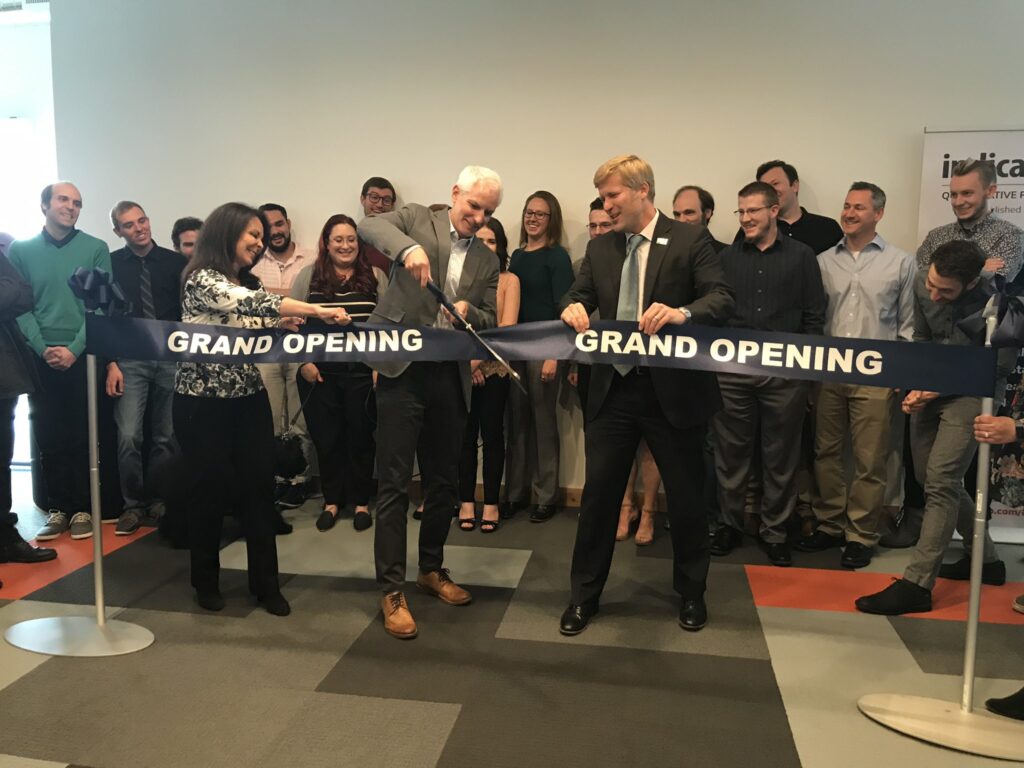 ALBUQUERQUE, NM USA – Indica Labs, an industry leader in quantitative digital pathology, held a ribbon cutting ceremony at its new facility on Friday, May 10, 2019. The ceremony was attended by Indica Labs employees, investors, local business leaders and government officials, including Bernalillo County Manager, Julie Morgas Baca, and Albuquerque Mayor, Tim Keller. The new facility allows Indica room to expand its workforce and relocate its headquarters to accommodate the company's continued growth.
Indica Labs has experienced year-over-year growth of 63% between 2017 and 2018 and doubled the number of employees during the same period. This business growth was the catalyst behind the need to move to a larger facility. Since 2013, Indica Labs has been located in a 3,000 square foot building in Corrales, New Mexico.  The new headquarters, located on Albuquerque's westside at 8700 Education Place NW, provides a larger space of 14,500 square foot.
Indica Labs CEO, Steven Hashagen remarked "We're excited about the expansion of our headquarters here in the Albuquerque metro. Our state-of-the-art facility not only affords the company room to grow, it incorporates many features geared towards team productivity, employee health, ergonomics, and well-being."
In September, the company announced the move and plans to add an additional 58 jobs over a five-year period, an effort which is supported by the state's Local Economic Development Act (LEDA) fund. Bernalillo County is serving as the fiscal agent for the LEDA funds. Currently, the company has 30 employees based in Albuquerque, with an additional 13 employees based in other parts of the United States, the United Kingdom, Japan, and China. Indica Labs employs a total of 43 employees globally.
"We are thrilled Indica Labs has selected Albuquerque to expand their headquarters. Indica Labs is taking advantage of Albuquerque's rich tech ecosystem and is committed to adding over 50 high-paying and highly-skilled jobs," said Mayor Keller. "They're even focused on hiring local talent from UNM and New Mexico Tech—it's an example of exactly what we are doing to build an economy that works for everyone." he added.
About Indica Labs, Inc.

Indica Labs software solutions provide fast, quantitative evaluation of whole slide tissues using HALO® and HALO AI™ for image analysis and HALO Link™ to manage images, data, and facilitate collaboration. With unmatched ease-of-use and scalability, pharmaceutical, healthcare, and research organizations worldwide are using HALO for high-throughput, whole-slide image quantification in areas such as oncology, immuno-oncology, neuroscience, ophthalmology, metabolism, respiratory, and toxicological pathology.  For more information, please visit https://indicalab.com or contact info@indicalab.com.