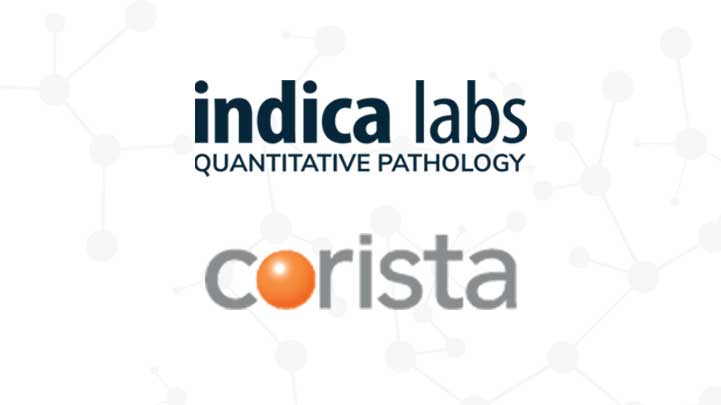 Integrating the two platforms provides pathologists instant access to quantitative image analysis right from Corista's digital pathology workflow suite

Concord, MA (February 11, 2020) – Corista, an integrated pathology solutions leader, and Indica Labs, a leading provider of image analysis and management software, today announced their integrated capabilities. Through this integration, pathology labs gain the speed and flexibility to access Indica Labs' HALO® image analytics directly from Corista's award-winning DP3® comprehensive workflow suite.
Corista's DP3 is the digital pathology platform of choice for major medical organizations. It provides pathologists with a 360 degree-view of the anatomic pathology workflow by consolidating data and native images into a single dashboard. With its easy-to-use interface, pathologists can quickly view and manage their workload, while accepting, reviewing, and transferring cases regardless of patient or case location.
"We are excited to announce this integration with Indica Labs. We are committed to ensuring pathologists have direct access to the industry's leading image analysis and analytics capabilities within DP3. It's another example of Corista's dedication to supporting pathologists in their use of image analytics for research and patient review," Corista Founder, President and CEO Elizabeth Wingard said. "By integrating access to Halo's capabilities, pathologists can conduct deep and unlimited analysis of tissue biomarkers directly from the patient's case file."

Now, with the addition of HALO's quantitative image analytics for analyzing data and images, pathologists can further improve their workflow. The integration allows physicians to reduce the time to perform each routine, removing the need to build algorithms from scratch and enabling the archiving of results directly into DP3. And with its open API, HALO provides physicians with the ability to scale the solution as their needs grow.
"Enabling use of HALO image analysis directly from the Corista's DP3 platform means faster and more efficient case management and ensures all information is securely accessed and stored in one place," said Dr. Kate Lillard, Chief Scientific Officer at Indica Labs. "This integration is a prime example of how the HALO GraphQL API can be used to connect HALO's analytic capabilities with industry-leading third-party digital pathology workflows to give customers more options and flexibility."

The DP3 and HALO solution is now available for installation to existing customers. To see the integration in action, contact Corista for a specialized demo.
About Corista

Corista delivers the industry's most extensive array of workflow, analytical and collaborative tools for pathology. Medical centers can seamlessly integrate with LIS/EHRs in a unified digital environment of whole-slide, gross, and static pathology images. Physicians have 21st-century tools to collaborate, communicate, teach, and report with access to 'best of breed' image analytics. Specialists can receive digital consults from remote physicians and patients from across the globe, and investigator-initiated researchers have an R&D platform to apply their algorithms. Corista provides for a new level of interoperability for pathology, integrating WSI image scanning systems, image analytics, and LIS/EHR platforms with a rich collaborative environment for physicians, patients, bio-tech and pharmaceutical scientists. This is Integrated Pathology™ only from Corista. For more information, visit https://corista.com/.
About Indica Labs

Indica Labs software solutions provide fast, quantitative evaluation of whole slide tissues using HALO® and HALO AITM for image analysis and HALO LinkTM and HALO APTM to manage images, data, and facilitate collaboration. With unmatched ease-of-use and scalability, pharmaceutical, healthcare, and research organizations worldwide are using HALO for high-throughput, whole-slide image quantification in areas such as oncology, immune-oncology, neuroscience, ophthalmology, metabolism, and toxicological pathology. For more information, please visit https://indicalab.com or contact info@indicalab.com.