Press Release: Indica Labs earns Work/Life Flexibility award and is named a Top Workplace by The Albuquerque Journal for the second year running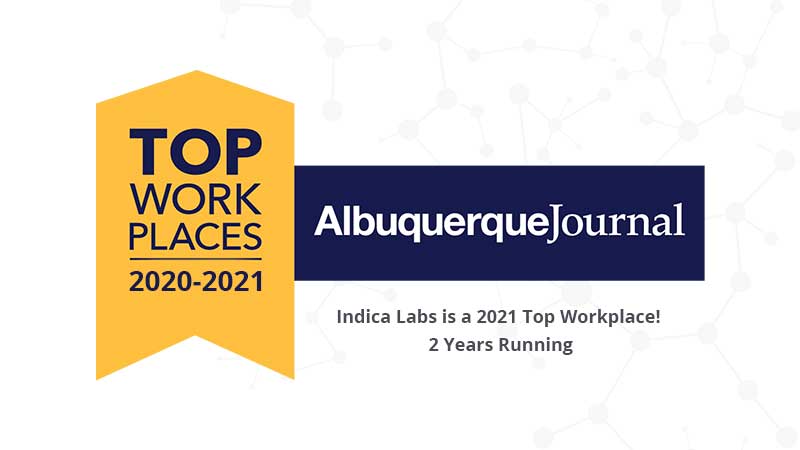 Albuquerque, NM, 2 September, 2021 – Indica Labs, a leading provider of computational pathology software, is proud to announce that they have been awarded a Top Workplaces™ honor by The Albuquerque Journal for a second year in a row. In addition to being a Top Workplace, Indica Labs was the sole recipient of the Life/Work Flexibility award for 2021.
"2020 was a challenging year for everyone across the world, and to be named a Top Workplace for our second year is a huge accomplishment," said Steven Hashagen, CEO at Indica Labs. "We are told throughout our working life that work/life balance is important, but the pandemic brought that message home for many of us. We are especially proud to receive the Work/Life Flexibility Award this year and are committed to nurturing this balance within our company culture, now and into the future."
Top Workplaces is awarded solely on the basis of voluntary employee feedback obtained through an anonymous survey administered by Energage, LLC. The survey is designed to measure employee satisfaction and engaged company culture. According to Energage, an impressive 88% of eligible Indica Labs employees responded to the survey which led to this year's Top Workplaces honor. Top keywords used by respondents to describe Indica Labs' company culture in these surveys – supportive, innovative, flexible, and hard-working.
"This award is the culmination of all of the talented, hard-working people at Indica Labs doing great work together," commented Jonathon Bartlett, Director of Human Resources & Accounting at Indica Labs, "Indica Labs continues to consistently hire and retain top performers year over year. With this award, our employees have recognized Indica Labs as the place they want to be and the place that other people should want to be."
Proudly headquartered in Albuquerque, New Mexico, Indica Labs is in its 10th year of business and offers employment opportunities to scientists, IT professionals, software developers and engineers around the world, including the US, Japan, China, and Europe. To learn more about available position and benefits or to apply, visit indicalab.com/careers.
About Indica Labs, Inc
Indica Labs is the world's leading provider of computational pathology software and services. Our flagship HALO® image analysis platformenables fast, quantitative evaluation of tissues using a broad range of artificial intelligence (AI) and computer vision algorithms. HALO Link and HALO AP facilitate remote image analysis, collaboration and management. Through a combination of precision, scalability, and usability our software solutions enable pharmaceutical companies, diagnostic labs, research organizations, and Indica's own contract pharma services team to advance tissue-based research, clinical trials, and diagnostics. For more information, please visit https://indicalab.com or contact info@indicalab.com.