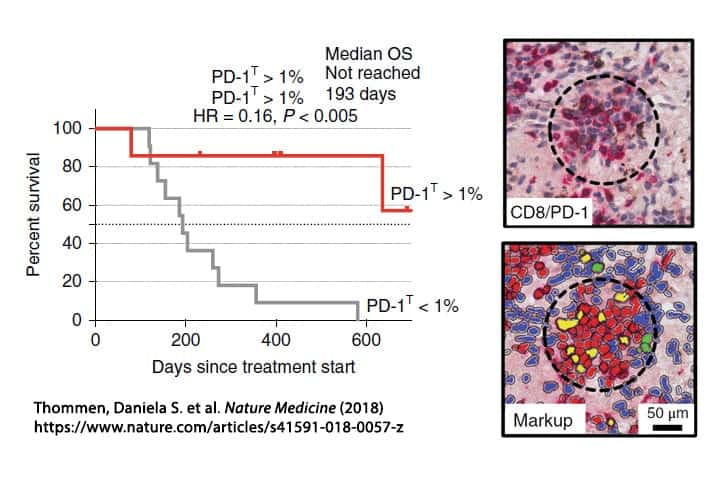 New Mexico, USA 21/6/2018 – Indica Labs, Inc announced today that the HALO® platform was used in two recent research papers that describe novel digital image analysis protocols for PD-1 and PD-L1 quantification and may help to identify potential responders to PD1/PD-L1 targeted immunotherapy in non-small cell lung cancer and melanoma.
In the first study published in Nature Medicine this month, PD-1+ tumor-infiltrating lymphocytes (TILs) from non-small cell lung cancer (NSCLC) were subdivided into groups based on PD-1 expression and characterized using a variety of approaches. TILs with high PD-1 expression (PD-1T cells) were demonstrated to be metabolically and transcriptionally distinct and to possess an intrinsically high capacity for tumor recognition. Using HALO, an image analysis protocol to quantify PD-1T cells in tissues was developed and used to demonstrate that the presence of PD-1T cells in tumors was highly predictive for both clinical response and survival in a cohort of patients with NSCLC undergoing anti-PD1 therapy.
"The digital quantification of PD1T cells has strong potential to guide the treatment of lung cancer patients with PD-1 inhibitors" said Dr. Viktor Koelzer "The HALO platform strongly facilitated the research and development of this novel predictive indicator for clinical translation"
Quantitative assessment of the tumor-bound ligand for PD-1, PD-L1, was the subject of a second study led by Cantonal Hospital Baselland in Liestal, Switzerland. While PD-L1 is used as a predictive biomarker for response to anti-PD1 therapy in several tumor types, variable correlations with therapeutic response have been reported in several melanoma clinical trials.
HALO was employed to score PD-L1 positivity in all tumor cells across digital slides and the integrated random forest tissue classifier was used to automatically differentiate positivity in tumor cells from infiltrating inflammatory cells, one of the most common issues with PD-L1 evaluation. The study published in Histopathology in April, reported that digital PD-L1 scoring was highly reproducible, correlated strongly with pathologist-based consensus scoring, and reduced interobserver variability between pathologists.
"PD-1 and PD-L1 have been studied extensively as immunotherapy targets and as potential prognostic and predictive biomarkers," said Dr. Kate Tunstall, Chief Scientific Officer at Indica Labs, "yet investigators are still discovering new, clinically relevant paradigms for their quantification and application.  We are excited and humbled to know that our platforms are playing a key role in this research which may eventually transition to the clinic to help practitioners identify patients most likely to respond to PD-1/PD-L1 targeted immunotherapies."
Dr. Viktor Koelzer, author and participating investigator in both studies, will discuss this work in a webinar scheduled for 12th July, 2018 entitled " Computational pathology: A new platform to empower personalized immunotherapy" Please click here to register your interest in attending this webinar.
About Indica Labs, Inc. 

Indica Labs software solutions provide fast, quantitative evaluation of whole slide tissues using HALO and HALO AI for image analysis and HALO Link to manage images, data, and facilitate collaboration. With unmatched ease-of-use and scalability, pharmaceutical, healthcare, and research organizations worldwide are using HALO for high-throughput, whole-slide image quantification in areas such as oncology, immuno-oncology, neuroscience, ophthalmology, metabolism, respiratory and toxicological pathology. For more information, please visit https://indicalab.com or contact info@indicalab.com