The Branch Structure FL module performs analysis of branch-like structures such as retinal vessels or cortical neurons in fluorescence. The module identifies branch structures, performs structural analysis, and reports a variety of metrics that are near-impossible to measure manually. The module reports number of branch points, number of end points, total branch area, total branch length, average branch thickness, and tissue area. 
File formats supported by the HALO image analysis platform:
Non-proprietary (JPG, TIF, OME.TIFF)
Nikon (ND2)
3D Histech (MRXS)
Akoya (QPTIFF, component TIFF)
Olympus / Evident (VSI)
Hamamatsu (NDPI, NDPIS)
Aperio (SVS, AFI)
Zeiss (CZI)
Leica (SCN, LIF)
Ventana (BIF)
Philips (iSyntax, i2Syntax)
KFBIO (KFB, KFBF)
DICOM (DCM*)
*whole-slide images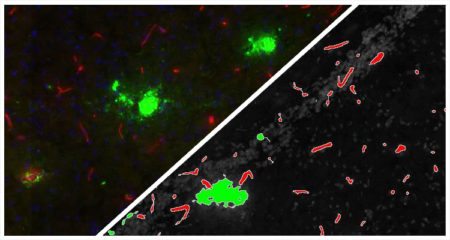 Count one or two fluorescently labeled objects and measures the object area, diameter, stain intensity, and colocalization (where applicable). Microvessel and amyloid plaque quantification are most common applications.
Learn More
Fill out the form below to request information about any of our software products.
You can also drop us an email at info@indicalab.com
We highly recommend using Google Chrome when filling out the form above. Please email
marketing@indicalab.com
for support.