Indica Labs FISH-IF quantification module measures any number of fluorescently-labeled DNA/RNA ISH probes and immunofluorescent (IF) protein biomarkers on a cell-by-cell basis. This allows the user to rapidly contextualize the corresponding protein and gene expression profile of every cell across the tissue. HALO® FISH-IF analysis is designed to work with an unlimited number of fluorescent protein biomarkers and probes.
File formats supported by the HALO image analysis platform:
Non-proprietary (JPG, TIF, OME.TIFF)
Nikon (ND2)
3D Histech (MRXS)
Akoya (QPTIFF, component TIFF)
Olympus / Evident (VSI)
Hamamatsu (NDPI, NDPIS)
Aperio (SVS, AFI)
Zeiss (CZI)
Leica (SCN, LIF)
Ventana (BIF)
Philips (iSyntax, i2Syntax)
KFBIO (KFB, KFBF)
DICOM (DCM*)
*whole-slide images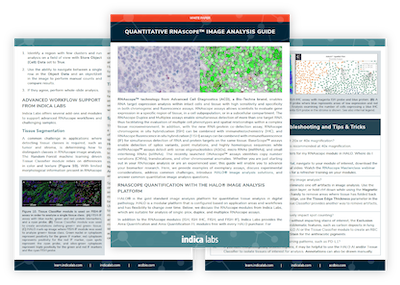 Quantitative RNAscope Image Analysis Guide​
Advance your RNAscope image analysis by downloading the latest Quantitative RNAscope Image Analysis Guide from Indica Labs and ACD, a Bio-techne brand.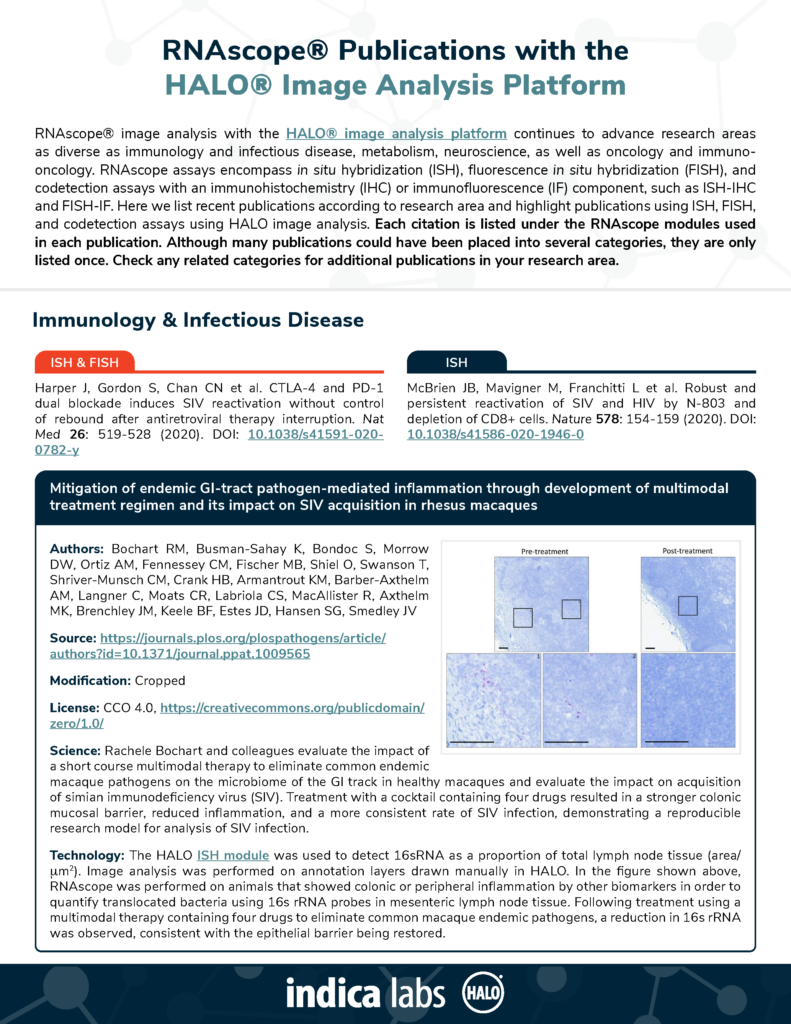 RNAscope® Publications with the HALO® Image Analysis Platform
Read this publications list to see examples of research in areas from neuroscience to oncology using HALO to analyze RNAscope images.
The table below includes publications that cite the FISH-IF and ISH-IHC modules. 
Your publication not on the list?  Drop us an email to let us know about it!
| Title | Authors | Year | Journal | Application | HALO Modules | Product |
| --- | --- | --- | --- | --- | --- | --- |
| Detection of EpsteinñBarr Virus in Periodontitis: A Review of Methodological Approaches | Tonoyan L, Chevalier M, Vincent-Bungnas S, Marsault R, Doglio A | 2021 | Mircroorganisms | Review | ISH/FISH, ISH-IHC/FISH-IF | HALO |
| Detection of engineered T cells in FFPE tissue by multiplex in situ hybridization and immunohistochemistry | Wright JH, Huang L-Y, Weaver S, Archila LD, McAfee MS, Hirayama AV, Chapuis AG, Bleakley M, Rongvaux A, Turtle CJ, Chanthaphavong S, Campbell JS, Pierce RH | 2020 | Journal of Immunological Methods | Immunology | ISH/FISH, ISH-IHC/FISH-IF | HALO |
| Epicardium-derived cells organize through tight junctions to replenish cardiac muscle in salamanders | Eroglu E, Yen C, Witman N, Elewa A, Araus A, Wang H, Szattler T, Umeano C, Sohlmer J, Goedel A, Simon A, Chien K | 2022 | Nature Cell Biology | Myology | ISH/FISH, ISH-IHC/FISH-IF | HALO |
| Satellite repeat RNA expression in epithelial ovarian cancer associates with a tumor immunosuppressive phenotype | Porter R, Sun S, Flores M, Berzolla E, You E, Phillips I, KC N, Desai N, Tai E, Szabolcs A, Lang E, Pankaj A, Raabe M, Thapar V, Xu K, Nieman L, Rabe D, Kolin D, Stover E, Pepin D, Stott S, Deshpande V, Liu J, Solovyov A, Matulonis U, Greenbaum B, Ting D | 2022 | The Journal of Clinical Investigation | Immuno-oncology | ISH/FISH, ISH-IHC/FISH-IF | HALO |
| Systemic Nos2 Depletion and Cox inhibition limits TNBC disease progression and alters lymphoid cell spatial orientation and density | Somasundaram V, Ridnour L, Cheng R, Walke A, Kedei N, Bhattacharyya D, Wink A, Edmondson E, Butcher D, Warner A, Dorsey T, Scheiblin D, Heinz W, Bryant R, Kinders R, Lipkowitz S, Wong S, Pore M, Hewitt S, McVicar D, Anderson S, Chang J, Glynn S, Ambs S, Lockett S, Wink D | 2022 | Redox Biology | Oncology | Classifer, ISH/FISH, Spatial Analysis, Registration, ISH-IHC/FISH-IF | HALO |
| Annexin A2/TLR2/MYD88 pathway induces arginase 1 expression in tumor-associated neutrophils | Zhang H, Zhu X, Friesen T, Kwak J, Pisarenko T, Mekvanich S, Velasco M, Randolph T, Kargl J, Houghton A | 2022 | Journal of Clinical Investigation | Immuno-oncology | Spatial Analysis, ISH-IHC/FISH-IF | HALO |
| Spatiotemporal transcriptome analysis reveals critical roles for mechano-sensing genes at the border zone in remodeling after myocardial infarction | Yamada S, Ko T, Hatsuse S, Nomura S, Zhang B, Dai Z, Inoue S, Kubota M, Sawami K, Yamada T, Sassa T, Katagiri M, Fujita K, Katoh M, Ito M, Harada M, Toko H, Takeda N, Morita H, Aburatani H, Komuro I | 2022 | Nature Cardiovascular Research | Myology | ISH-IHC/FISH-IF | HALO |
| Loss of functional System x-c uncouples aberrant postnatal neurogenesis from epileptogenesis in the hippocampus of Kcna1-KO mice | Aloi M, Thompson S, Quartapella N, Noebels J | 2022 | Cell Reports | Neuroscience | ISH-IHC/FISH-IF | HALO |
| Multiparameter immunohistochemistry analysis of HIV DNA, RNA and immune checkpoints in lymph node tissue | Richardson Z, Deleage C, Tutuka C, Walkiewica M, Del Rio-Estrada P, Pascoe R, Evans V, Reyesteran G, Gonzales M, Roberts-Thomson S, Gonzalez-Navarro M, Torres-Ruiz, F, Estes J, Lewin S, Cameron P | 2021 | Journal of Immunological Methods | Infectious Disease | ISH-IHC/FISH-IF | HALO |
| The potassium channel auxiliary subunit Kv_2 (Kcnab2) regulates Kv1 channels and dopamine neuron firing | Yee J, Rastani A, Soden M | 2022 | Journal of Neurophysiology | Neuroscience | ISH-IHC/FISH-IF | HALO |
| Transcriptional vulnerabilities of striatal neurons in human and rodent models of Huntington's disease | Matsushima A, Pineda S, Crittenden J, Lee H, Galani K, Mantero J, Tombaugh G, Kellis M, Heiman M, Graybiel A | 2023 | Nature Communications | Neuroscience | Area Quantification, ISH-IHC/FISH-IF | HALO |
| Exploration of spatial heterogeneity of tumor microenvironment in nasopharyngeal carcinoma via transcriptional digital spatial profiling | Wang L, Wang D, Zeng X, Zhang Q, Wu H, Liu J, Wang Y, Liu G, Poan Y | 2023 | International Journal of Biological Sciences | Oncology | Area Quantification, ISH-IHC/FISH-IF | HALO |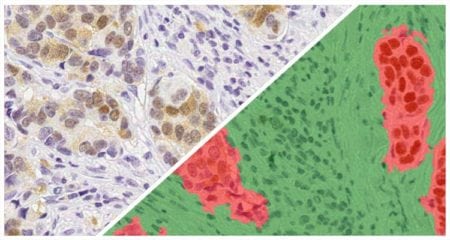 Separate multiple tissue classes across a tissue using a learn-by-example approach. Can be used in conjunction with all other modules (fluorescent and brightfield) to select specific tissue classes for further analysis.
Learn More
Use the arrows above to view additional related modules
Fill out the form below to request information about any of our software products.
You can also drop us an email at info@indicalab.com
We highly recommend using Google Chrome when filling out the form above. Please email
marketing@indicalab.com
for support.