HALO®, HALO AI™, and HALO Link™ 3.5 Features and Functionalities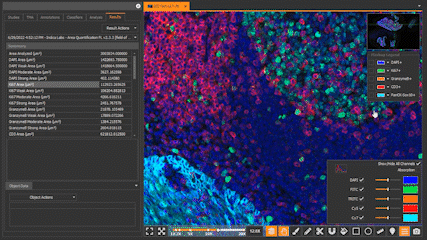 In this blog post, you can learn about some of the new features in the 3.5 release, when to expect your opportunity to upgrade, and where to find user guides, release notes, and tutorial videos.
What new features are included in the 3.5 release?
HALO® 3.5
The 3.5 release of HALO has a new Crop Tool, improvements to the analysis job queue, and HALO Link permissions are better reflected. In addition, interactive markup images for the Area Quantification and Area Quantification FL modules enable users to explore colocalization and combined phenotypes.
HALO AI™ 3.5
In the 3.5 release of HALO AI, the Validation Workflow now utilizes Interactive Validation Markups to improve understanding of validation results. In addition, there is new functionality for the Phenotyper in analysis modules, and users can now import ONNX models and run analysis. New tools to optimize GPU utilization also provide workflow enhancements.
HALO Link™ 3.5

The 3.5 release of HALO Link includes new annotation tools and annotation export capabilities as well as an updated Admin Dashboard that provides administrators with a high-level overview of the system configuration and status. This release also includes new functionality on the Search page and the ability to create Box & Whisker and Violin plots to visualize trends.
Where can I learn more about HALO, HALO AI, and HALO Link 3.5?
Check out these resources to learn more about the latest release. You will need a Learning Portal account to access these resources. If you do not already have an account, you can create one here.

support Documentation

Tutorial Videos


Webinars
When can I expect to receive my 3.5 upgrade?
Indica Labs' Technical Solutions team will be sending an email out to customers with eligible Software Maintenance and Support (SMS) plans.
If you haven't already, please add the following emails to your safe sender list to make sure our emails make it to you and not your spam folders: support@indicalab.com, info@indicalab.com, and marketing@indicalab.com.
Once you receive this email and submit your upgrade request, our Technical Solutions team will work with you to schedule your installation. If your HALO, HALO AI, or HALO Link licenses do not have an active SMS plan or you are unsure of your plan status, submit this form and we'll be in touch with you soon.
If you have questions regarding the release, feel free to reach out to support@indicalab.com.