Press Release: Indica Labs named a 2020 Top Workplace by The Albuquerque Journal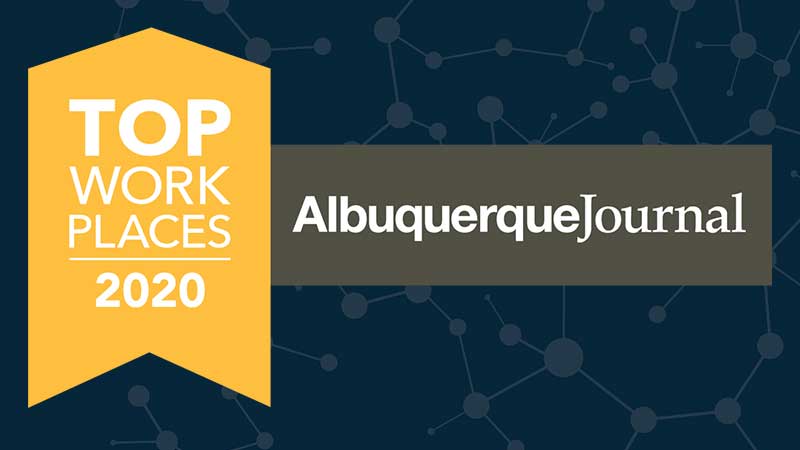 Albuquerque, NM – August 5, 2020 – Indica Labs, a leading provider of computational pathology software, is pleased to announce that they have been awarded a 2020 Top Workplaces™ honor by The Albuquerque Journal.  Indica Labs was the highest ranking company in the life sciences sector to be included in The Journal's published list of Top Workplaces this year.
Top Workplaces is awarded based solely on the results of voluntary employee feedback obtained through an anonymous survey administered by research partner Energage, LLC.  The survey measures 15 drivers of engaged company culture which drive higher employee retention and are critical for organizational success, including directional alignment, innovation, employee appreciation and support for individual development, to name but a few.
"In times of great change, it is more important than ever to maintain a connection among employees," said Eric Rubino, Energage CEO. "When you give your employees a voice, you come together to navigate challenges and shape your path forward based on real-time insights into what works best for your organization. The Top Workplaces program can be that positive outcome your company can rally around in the coming months to celebrate leadership and the importance of maintaining an employee-focused culture, even during challenging times."  
"I'm excited, and not at all surprised to see Indica Labs, Inc. make the Top Workplace list in New Mexico this year. Our organization is one of the few companies that places the employee experience at a level equal to that of the customer experience, and it shows in every interaction we have. We set the bar high, and it keeps getting higher each year," says Jonathon Bartlett, Human Resources Manager at Indica Labs. "Our employees are the reason we've obtained this honor, and I couldn't be more proud to be associated with this great group of people in all of our global locations."
Proudly headquartered in Albuquerque, New Mexico, Indica Labs offers employment opportunities to scientists, IT professionals, software developers and engineers around the world, including the US, Japan, China, and Europe. To learn more about available positions or to apply, visit indicalab.com/careers.
About Indica Labs
Indica Labs is the world's leading provider of computational pathology software and services. Our flagship HALO image analysis platform enables fast, quantitative evaluation of tissues using a broad range of artificial intelligence (AI) and computer vision algorithms. HALO Link and HALO AP facilitate remote image analysis, collaboration and management. Through a combination of precision, scalability, and usability our software solutions enable pharmaceutical companies, diagnostic labs, research organizations, and Indica's own contract pharma services team to advance tissue-based research, clinical trials, and diagnostics. For more information, please visit https://indicalab.com or contact info@indicalab.com.
About Energage
Energage offers a fully unified SaaS platform, plus support and professional services, to help organizations recruit and retain the right talent. As a B-Corporation founding member, Energage has committed itself to the purpose of making the world a better place to work together. Based on 14 years of culture research, the engine behind 51 Top Workplaces programs across the country, and data gathered from over 20 million employees at 60,000 organizations, Energage has isolated the 15 drivers of engaged cultures that are critical to the success of any business, and developed the tools and expertise to help organizations measure, shape and showcase their unique culture to achieve a sustainable competitive advantage. For more information, please visit http://energage.com.
Follow us on Twitter @teamenergage and Facebook and LinkedIn @energage.