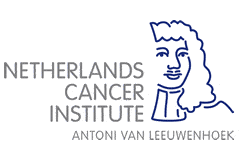 Corrales, NM – October 24, 2017 – Indica Labs, the leading provider of software for quantitative evaluation of digital pathology images, is pleased to announce selection of the HALO image analysis platform by the Netherlands Cancer Institute (NKI) for in situ analysis of multiplexed biomarkers in tumor tissues.
NKI will be using the HALO platform to analyze images captured from their Perkin Elmer Vectra® 3 multispectral imaging system.   Together with the Perkin Elmer OpalTM 7 reagent kits, this system allows simultaneous detection of up to seven multiplexed protein biomarkers.  In collaboration with NKI, Indica Labs developed a method to fuse together the spectrally-unmixed field of view images generated by this platform into a single, pyramidal image of the whole tissue that can be viewed, zoomed, annotated and analyzed.  These fused images allow multiplexed biomarkers to be analyzed in the context of the whole tissue so that the spatial relationship between different cell types can be more readily evaluated, an important aspect of the immuno-oncology research being conducted at NKI.
"Our efforts in the field of multispectral imaging are part of a larger effort to better understand the biology of cancer and interactions between tumor cells, tumor surrounding stromal cells and immune cells.  Translation of our knowledge on the influence of immune cells within the tumor microenvironment is urgently needed, said Dr. Erik Hooijberg, patho-immunologist at NKI.  "To address these questions, we need to analyze multiple markers simultaneously and evaluate the interaction between different cell phenotypes in and around the tumor."
Prof. Dr. JBAG Haanen from NKI added,  "NKI is one of the leading centers worldwide in developing biomarkers for response to immunotherapy, as exemplified by positioning of the Cancer Immunogram, a framework to describe the cancer-immune interaction at several levels. Multispectral imaging is an important asset in this endeavor."
Indica Labs' Chief Scientific Officer, Dr. Kate Lillard, has been working closely with Dr. Hooijberg and his colleagues at NKI to integrate the HALO image analysis platform into their multispectral imaging workflow.
"The  NKI has a strong focus on immuno-oncology which makes the work being performed here even more exciting for us," said Dr. Lillard. "HALO has been used by other research groups to demonstrate a strong correlation between the distribution of immune cell subtypes within the tumor microenvironment and response to immunotherapy as well as patient prognosis."  "Indica Labs is very proud that HALO is being used to progress immuno-oncology research at NKI and we believe that the discoveries being made here will lead to more treatment options and better patient care in the future."
About The Netherlands Cancer Institute – Antoni van Leeuwenhoek (NKI-AVL)
The Netherlands Cancer Institute has been at the international forefront of cancer care and research for already more than a century. The unique combination of health care and scientific research within the same institute offers great benefits for cancer patients. Specialized cancer care professionals work together in multidisciplinary teams to set up and carry out treatment plans tailored to the needs of individual patients because no two tumors are alike. Cancer patients or people suspected of having cancer come to our hospital, known as the Antoni van Leeuwenhoek, to make use of this personalized approach and the state-of-the-art research and treatment facilities. The research institute employs more than 700 scientists investigating many aspects of cancer development, diagnosis, treatment and epidemiology. Scientists at the Netherlands Cancer Institute have access to state-of-the-art research facilities supporting their basic, translational and clinical research. This scientific research could not be carried out without the institutional support of the Dutch Cancer Society, the Ministry of Health, Welfare and Sports, the many research grants obtained by our researchers from (inter)national funding agencies, and the generous donations made by individuals that support our research program. The Netherlands Cancer Institute is the only OECI designated Comprehensive Cancer Center in the Netherlands. For more information, please visit our websites www.nki.nl and www.avl.nl.
About Indica Labs
Indica Labs is a leading provider of software for quantitative evaluation of digital pathology images.  Indica Lab's HALO™ image analysis platform provides a unique combination of precision, performance, scalability, and usability which underpins a broad range of industry-leading, application-specific image analysis modules.  Pharmaceutical and medical research organizations worldwide utilize HALO to support tissue-based research programs in immuno-oncology, oncology, neuroscience, metabolism, toxicological pathology, and more.  For more information, please visit https://indicalab.com.